Lake Arrowhead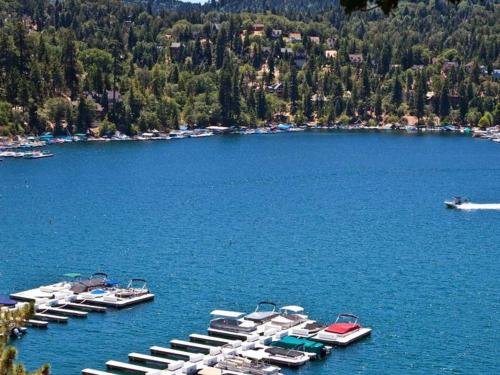 At 5,000 feet it's the most spectacular shopping experience in Southern California. The alpine architecture wanders through 200 year old pines and follows the shore of beautiful Lake Arrowhead. It's home to a unique blend of one of a kind local merchants, as well as your favorite outlets. Watch caramel apples hand dipped at the Rocky Mountain Chocolate Factory or learn to water ski at McKenzie's Ski School. The Village restaurants offer casual to formal dining, each with breath-taking lakeside views. Browse the many Village art galleries representing pieces from all over the world, as well as local Arrowhead mountain artisans. The kids will enjoy Wild Haven, the Astronomy Museum, and Children's Forest.
Experience the seasons. come up for the day; take the Arrowhead Queen Paddle-wheel tour around the lake, or make it a weekend at the Lake Arrowhead Resort, and enjoy snow skiing, ice skating, horse-back riding or other local mountain activities. Enjoy our Summer concert Series, the 4th of July Gala & Celebration or Oktoberfest. We invite you to stroll the Peninsula in the snow for our annual Christmas in December.
For information on Lake Arrowhead, contact the
Lake Arrowhead Chamber of Commerce
.
Ski Information
Snow Valley Mountain Resort
is all about family, friends, and fun. Just minutes from Lake Arrowhead and Running Springs. From Slide Peak to Schighridj Terrain Park, it's 240 acres of snow-filled fun and challenge both day and night. Come for the day or stay for the week.
Snow Report
: 800-680-SNOW
Phone
: 800-680-7669
Email
: info@snow-valley.com
Snow Summit Ski Resort
is
33 miles from Lake Arrowhead. 2 high speed 4 seat lifts, 1 beginner with lessons on a gentle hill. Winter and Summer Activities.
Call 888-SUMMIT-1 (888-786-6481)
Big Bear Mountain Ski Resort
is about one hour from Lake Arrowhead, just around the corner from Snow Summit.
Call 909-585-2519 for more information.